Summer Camps
The Academy of Music continues its tradition of offering high quality music instruction to students of all ages with our affordable, popular summer camps. Immersion in a summer music camp is motivating, fun, and a great gift for parents to give children. You can meet and make friends and have a healthy dose of instruction from teachers at the Academy you may not have had access to before. It is a great time to enjoy good instruction, good fun, and great music. All this, along with the intrinsic value and joy in studying an art form that expresses beauty! What powerful reasons to give your children the gift of a week at summer music camp!
Ukulele Ensemble Classes with Ben Abrahamson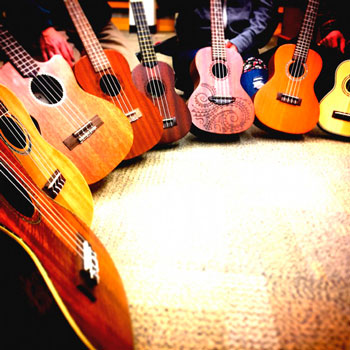 Youth Ukulele Ensemble For ages 9-12
When: July 16-20, 10:00-11:30am
Tuition: $125
The ukulele is portable, affordable fun and a guaranteed way to make friends. For music fans age 9-12, this class offers students the toolds to start playing songs, right away. We'll learn tunes by the Beatles and discover how to create danceable grooves and melodies. Bring your own instrument and a folder or 3-ring binder.
Adult Ukulele Ensemble
When: July 16-20, 12:00-1:30pm
Tuition: $125
Don't let those guitars have all the fun! Hone your uke skills in a relaxed, collaborative setting as we strum, pluck, and solo our way through fun arrangements of Beatles songs and more. Bring your soprano, concert, tenor, baritone, guitarlele, or U-bass and a binder and get ready to take your ukulele adventure to the next level. Bring your own instrument and a folder or 3-ring binder.
Download a registration form by clicking here OR enroll online by clicking here!
Contact Us for more information.